No annual contract, no monthly bill.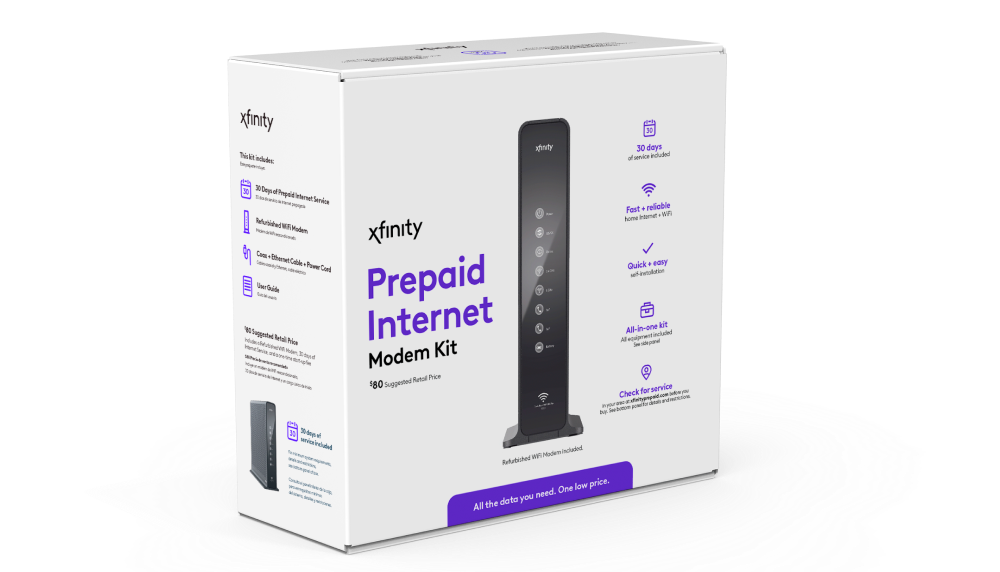 The Xfinity Prepaid Modem Kit is all you need to start streaming, gaming, and video chatting across all your devices for 30 days.
Flexible ways to refill your service: online, in-app or in-store.
$45 for up to 30 days of Internet
$15 for up to 7 days of service
*Requires a $35 modem purchase
Restrictions apply. Not available in all areas.
Limited to Xfinity Prepaid Internet residential customers 18 years of age or older. Taxes, fees, shipping and handling extra. Requires purchase of Starter Kit for an additional cost. REFURBISHED WIRELESS GATEWAY INCLUDED WITH STARTER KIT. Limited warranty applies to equipment. Service limited to a single outlet. Limited to download speeds up to 50 Mbps and upload speeds up to 10 Mbps. Actual speeds vary and are not guaranteed. For factors affecting speed visit xfinity.com/networkmanagement. Requires self-installation. Subject to Agreement for Xfinity Prepaid service. Comcast 30-day money-back guarantee does not apply to Xfinity Prepaid Internet service or Starter Kits. Prepaid Starter Kits purchased from participating retailers are subject to the return and/or refund policy of that retailer. Returns and refund information for Prepaid Internet Starter Kits purchased through Comcast is available at xfinityprepaid.com/support. Refills for Prepaid service and refill cards and codes not subject to refunds and are not refundable, returnable, or redeemable or exchangeable for cash. © 2021 Comcast. All rights reserved.
Offers and Promotions
(3 Available)
Buy online or buy in-store